PRESS RELEASE
Amsterdam, The Netherlands – Paris, France; 19th September 2023
Syntho and Euris announce strategic partnership to unlock privacy sensitive data with AI Generated Synthetic Data at scale within healthcare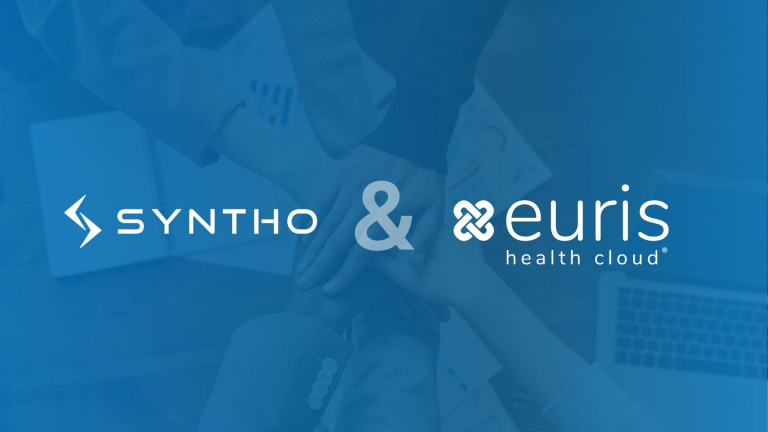 Syntho, the leading provider of AI-generated synthetic data software, is pleased to announce a strategic partnership with Euris Health Cloud®, the foremost secure health cloud operator located in France. Syntho and Euris have joined forces to advance innovation in the field of synthetic data generation at scale. This collaboration aims to leverage Euris' secure and cutting-edge cloud infrastructure, allowing Syntho's state-of-the-art AI-generated synthetic data software to operate within the trusted environment of Euris Cloud. As a result, customers of the Euris Health Cloud® will now have immediate access to the Syntho Engine and the benefits and value of AI generated synthetic data. 
Privacy sensitive data makes realizing data-driven innovation in healthcare challenging 
Healthcare severely needs data drive insights. Because healthcare is understaffed, over pressured with the potential to save lives. However, healthcare data is the most privacy sensitive data and is therefore locked. This privacy sensitive data is time-consuming to access, requires extensive paperwork and simply cannot be used. This is problematic, as the potential of realizing data driven innovation in healthcare is significant. That is why, Syntho and Euris collaborate, where Syntho unlocks data with synthetic data and Euris Health Cloud® provides leading secure cloud infrastructure. 
AI-Generated Synthetic data is now available via Euris Health Cloud 
Syntho's Syntho Engine generates completely new artificially generated data. Key difference, Syntho applies AI to mimic the characteristics of real world data in the synthetic data, and to such an extent that it can even be used for analytics. That's why, we call it a synthetic data twin. It is artificially generated data that is as good as real and statistically identical to the original data, but without the privacy risks. 
This announced collaboration leverages Euris' advanced and secure cloud infrastructure, enabling Syntho's cutting-edge AI-generated synthetic data software to function seamlessly within the trusted infrastructure of Euris Cloud. This integration will grant customers of the Euris Health Cloud® instant access to the Syntho Engine, empowering them to benefit from the advantages and added value offered by AI-generated synthetic data. 
"We are thrilled to announce this groundbreaking partnership with Euris Health Cloud®," says Wim Kees Jannsen, founder and CEO of Syntho. "By joining forces, we have the capability to revolutionize the way organizations access and leverage synthetic data. The Euris cloud provides the perfect environment for Syntho to deliver our cutting-edge technology at scale, ensuring the utmost privacy and security for our clients. This collaboration propels us towards our mission of empowering organizations to unlock the true potential of their data, while maintaining the highest standards of privacy and compliance via synthetic data. Together, we are setting a new standard for innovation and trust in the data-driven era, and allow organizations to benefit from the value of synthetic data at scale." 
Pedro Lucas, CEO at Euris Health Cloud®, adds, "We are convinced that this solution will bring an answer to one of today's biggest health data problems. By combining our strengths, we are enabling the medical world to access a secure, compliant environment with synthetic data, allowing them to start their research faster and more efficiently, so that they can focus on the real issue: medical knowledge and patient comfort." 
—
About Syntho: Founded in 2020, Syntho is the Amsterdam based startup that is revolutionizing the tech industry with AI-generated synthetic data. As leading provider of synthetic data software, Syntho's mission is to empower businesses worldwide to generate and leverage high-quality Synthetic Data at scale. Through its innovative solutions, Syntho is accelerating the data revolution by unlocking privacy-sensitive data and dramatically reducing the time required to obtain relevant (sensitive) data. By doing so, it aims to foster an open data economy where information can be freely shared and utilized without compromises on privacy. 
Syntho, through its Syntho Engine, is the leading provider of Synthetic Data software and is committed to enable businesses worldwide to generate and utilize high-quality Synthetic Data at scale. By making privacy-sensitive data more accessible and more rapidly available, Syntho enables  organizations to accelerate the adoption of data-driven innovation. Accordingly, Syntho is winner of the prestigious Philips Innovation Award, winner of the global SAS Hackathon in the category of Healthcare and Life Sciences, Unesco's Challenge at VivaTech and is listed as Generative AI startup "to watch" by NVIDIA. https://www.syntho.ai
About Euris Health Cloud®: Euris Health Cloud® is a connected healthcare operator, specialized in the hosting of healthcare data. Euris Health Cloud® provides a global hosting infrastructure for personal health data, in compliance with local regulations: EU (HDS: 2018 &ISO 27001 2013), US (HIPAA), China (CSL). https://www.euris.com 
Thanks to a unique marketplace model, Euris Health Cloud® also offers a complete range of interoperable services and solutions, facilitating the deployment of e-health projects: strong authentication, drive, archiving, backup, anonymization, Big Data, Business Intelligence, IoT, telemedicine, CRM, PRM and Healthcare Data Warehouse. 
For more information about the partnership between Syntho and Euris, please contact Wim Kees Janssen (kees@syntho.ai).