The leading platform for AI generated synthetic data
Generate synthetic data twins
Syntho provides a self-service synthetic data generation platform that supports any form of tabular data to unlock your data and to take away legitimate privacy concerns. Our Syntho Engine software mimics (sensitive) data by utilizing the power of AI to generate a synthetic data twin of the original data.
As a result, this synthetic data twin is:
Generate synthetic data with our most easy to use platform
Step 1
Easy deploy 
Syntho typically deploys in the safe environment of our customers so that (sensitive) data never leaves the safe and trusted environment of the customer. Hence, the Syntho Engine is shipped in a Docker container and can be easily deployed and plugged into your environment of choice.
Possible deployment options include:
On-premise
Any (private) cloud
Syntho cloud
Any other environment
Step 2
Easy connect to data
As we support various out of the box connectors that are included in our Syntho Engine, you will be able to easily configure your synthetic data generation job and connect the Syntho Engine to the source environment (where your original data that you would like to synthesize is stored) and the target environment (where you would like to write the synthetic data to). As a result, Syntho colleagues will never see your original data and will not require access to your Syntho Engine and your save environment.
Connection features that we support:
Plug-and-play with Docker
20+ database connectors
20+ filesystem connectors
Step 3
Easy use and generation of synthetic data 
Our platform is optimized for easy use so that anyone can generate and benefit from the value of synthetic data via our easy to use self-service platform. Manual work is minimized by utilizing the power of artificial intelligence (AI) as much as possible. We utilize AI not only for generating synthetic data, but also by automating manual work related to pre-processing, configurations and settings making your ride as user as smooth as possible.
Step 4
Bring synthetic data to production!
Our enterprise-ready synthetic data generation platform allows you to track your synthetic data jobs, have user management (for multiple users) and observe how the data is automatically written to your destination of choice with our end-to-end integrated approach. We maximize the data accuracy for every synthetic data generation job and demonstrate this via our data quality report. In addition, the SAS data experts assessed and approved our synthetic data from an external point of view. Once a job is finished, you can analyze the privacy and utility of your synthetic data in your quality report.
Schedule a demo of our Syntho Engine with our experts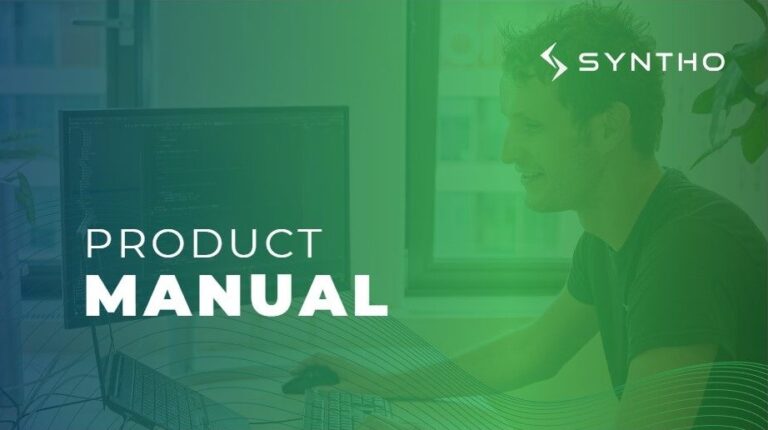 Save your product manual!