Syntho unveils Syntho Engine 2.0, revolutionizing AI-generated synthetic data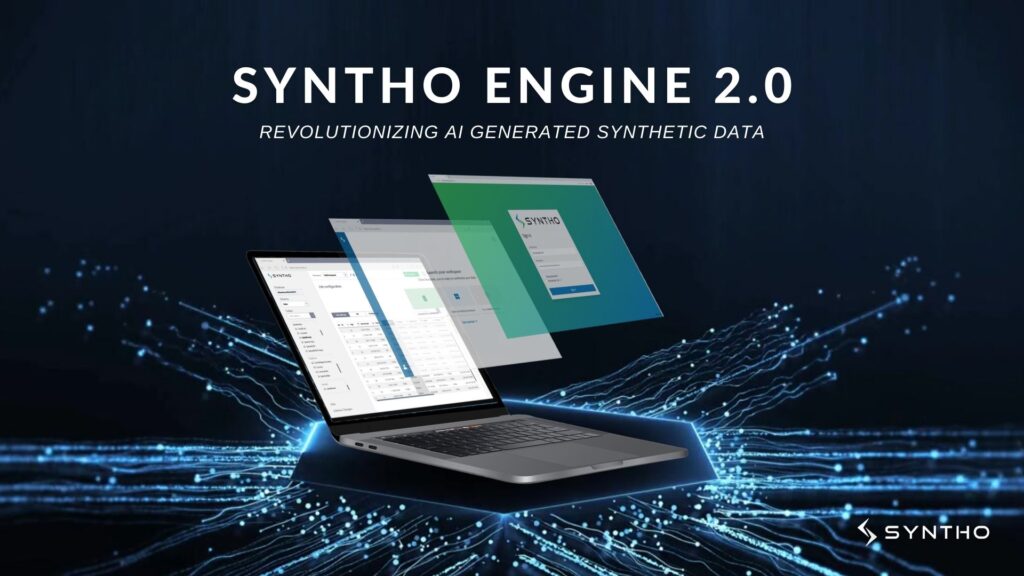 AMSTERDAM, May 9, 2023 – Syntho, the leading provider of Synthetic Data software, has announced the release of the highly-anticipated new version of its flagship software application, Syntho Engine 2.0. The release is a major milestone in the company's mission to enable businesses worldwide to generate and utilize high-quality Synthetic Data to accelerate the adoption of their data-driven transformation.
Syntho Engine 2.0 represents a significant upgrade compared to its predecessor. Key upgrades include:
Easy-to-use self-service interface with 3 step data generation that allows anyone to generate and benefit from the use of Synthetic Data.
Fastest Synthetic Data generation solution (benchmarked against open source and commercial)
Support for processing massive data amounts at scale with minimal computing resources
Enhanced support for timeseries data and multi-table databases
Extended features, e.g., PII scanner for columns and open text, mockers, sub-setting, user-management, extended connectors and more
"Our team has done an amazing job creating a platform that provides immense value to our customers," said Wim Kees Janssen, Co-Founder and CEO of Syntho. "The release of Syntho Engine 2.0 is a game-changer in Synthetic Data Software and we are excited to share it with businesses worldwide."
Syntho has already garnered acclaim for its innovative approach to AI Generated Synthetic Data. SAS, market leader in analytics, assessed and approved Synthetic Data from Syntho and collaborates now actively with Syntho to accelerate the adoption of Synthetic Data. In addition, the company won the prestigious Philips Innovation Award, is listed as Generative AI Startup to watch by NVIDIA and continues to be hailed for its role in revolutionizing the way businesses approach data privacy in the areas of software testing and advanced analytics.
"We want to push boundaries and set new standards in terms of working with privacy sensitive data, and to make Synthetic Data accessible to everyone," said Marijn Vonk, Co-Founder and CPO of Syntho. "Syntho Engine 2.0 is a major step in this direction. With this release, we are empowering businesses of all sizes to generate and utilize high-quality Synthetic Data, and we are confident that this will change the industry for the better."
Syntho Engine 2.0 is now available to customers worldwide, with Synthetic Data generation services offered in any language and in any alphabet.
– END OF PRESS RELEASE –

About Syntho
Syntho is the world's leading provider of AI Generated Synthetic Data software, empowering businesses to generate high-quality, privacy-preserving Synthetic Data for a wide range of use cases, including data analysis, machine learning, and testing. With customers worldwide, Syntho is committed to making Synthetic Data accessible and valuable for businesses of all sizes. To learn more about Syntho, Generative AI and the Syntho Engine, visit Syntho's website at: https://www.syntho.ai/
Contact
Wim Kees Janssen, Co-Founder and CEO
Email address: kees@syntho.ai
Schedule a meeting with Wim Kees: https://www.syntho.ai/kees/
LinkedIn Wim Kees: https://www.linkedin.com/in/wimkeesjanssen/
LinkedIn Syntho: https://www.linkedin.com/company/syntho/
We are experts in synthetic data. 
But, don't worry,

our team is real!
Contact Syntho and one of our experts will get in touch with you at the speed of light to explore the value of synthetic data!