Synthetic healthcare data for a leading US hospital
This leading hospital is a nonprofit, tertiary, 800+ bed teaching hospital and multi-specialty academic health science center located in Los Angeles, California. Part of this leading health system, the hospital has a staff of over 2,000 physicians and 10,000 employees, supported by a team of 2,000 volunteers and more than 40 community groups. This hospital is honored to be named the No. 2 hospital in the USA and No. 1 in California on U.S. News & World Report's Best Hospitals Honor Roll.
The hospital uses AI-driven solutions for advanced research and clinical trials. This hospital is well-positioned as a leading organization in AI-related healthcare research and development. The implementation of synthetic data at this hospital reflects the pursuit of new technologies and innovative solutions that are poised to improve patient care and advance medical research. Synthetic data is part of the broader strategy, leveraging technologies like artificial intelligence, machine learning, and advanced analytics to transform both the practice of medicine and the delivery of healthcare.
This leading hospital has announced the implementation of synthetic data in its research and clinical data science initiatives. This innovative technology will allow this leading hospital to generate realistic data sets that mimic actual patient data while maintaining patient privacy and data security.  The move marks a significant shift in the way healthcare organizations can securely and ethically conduct research and analysis without compromising sensitive information.
Synthetic data is created by using Artificial Intelligence algorithms to generate new data that mimics real-world patient data, without disclosing any identifying information.  
Maintaining a high level of accuracy and validity
Synthetic data allows organizations to simulate various scenarios and outcomes, providing valuable insights for medical research and clinical decision-making, while still maintaining a high level of accuracy and validity in their findings.
Unlock new insights and discoveries
This leading hospital creates synthetic data for conducting research, building Artificial Intelligence models, and testing algorithms without the risk of exposing sensitive information.  For example, to train and test machine learning algorithms to identify disease patterns or predict patient outcomes without using real patient data.
Scalability
Synthetic data technology allows for the creation of large-scale data sets that can be used to identify patterns and trends, enabling this leading hospital to better transform the way they use data to conduct research and advance medical knowledge within healthcare.
Organization: leading US hospital
Location:  The United States
Industry:  Healthcare
Size:  12000+ employees
Use case: Analytics
Target data: Patient data, data from the electronic health record system
Website: on request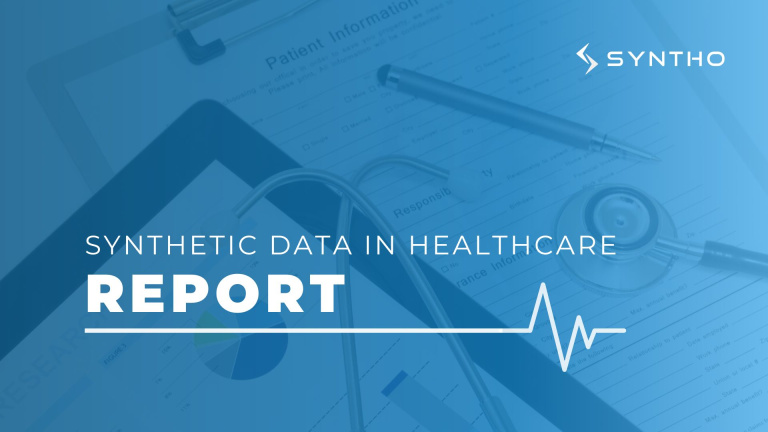 Save your synthetic data in healthcare report!