Waarom echte (gevoelige) data gebruiken als je ook synthetische data kunt gebruiken?
Syntho stelt organisaties in staat om datagedreven innovatie te stimuleren op een privacy-verantwoorde manier door AI-software te leveren voor het genereren van synthetische data.
Waarom onze klanten synthetische data gebruiken
Bouw een sterke basis om datagedreven innovatie te realiseren met ...
Onze klanten zijn in staat om het gebruik van originele (gevoelige) data te minimaliseren door deze te vervangen door synthetische data. Hier zorgt Syntho voor naleving van  privacyregelgeving (bijvoorbeeld AVG / GDPR), om bijvoorbeeld privacy risico's en beveiligingsrisico's te verminderen. Door gebruik van persoonlijke gegevens te minimaliseren door het gebruik van synthetische data, helpt Syntho uiteindelijk (privacy) risico's te minimaliseren en reputatieschade te voorkomen.
Met synthetische gegevens kunt u persoonlijke gegevens ontgrendelen die beperkt waren vanwege privacy of voorkomen dat u waardevolle gegevens verwijdert vanwege een verlopen bewaartermijn voor gegevens. Bovendien stelt het generatieve aspect van onze software u in staat om meer datarecords te genereren dan beschikbaar zijn in de originele dataset of subset om bijvoorbeeld data-in-balances of biases te corrigeren).
Tijdrovende en energieverslindende risicobeoordelingen, juridische contracten en toestemmingsprocessen voor gegevenstoegang verdwijnen bij omarming van synthetische data, wat resulteert in een flexibele infrastructuur om datagedreven innovatie te realiseren. Als spin-off vermindert het de bijbehorende overheadkosten van die trajecten, wat resulteert in aanzienlijke overheadbesparingen.
We maken synthetische data eenvoudig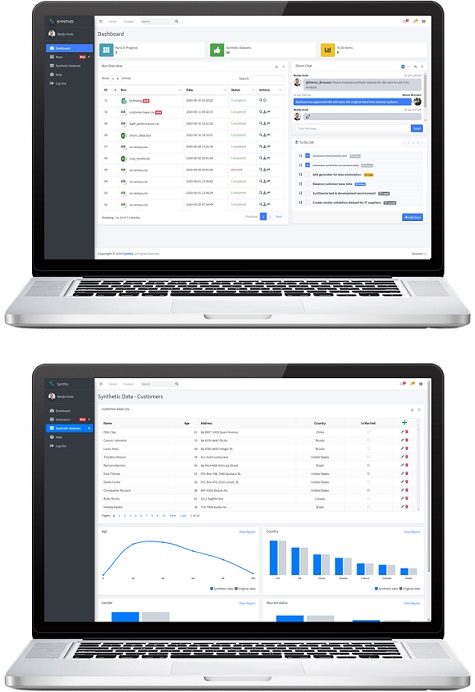 Onze oplossing: software voor synthetische data
Syntho biedt op AI gebaseerde software voor het genereren van synthetische data. De belangrijkste kenmerken van onze oplossing die onze klanten benadrukken, zijn:
Bekroonde oplossing voor synthetische data
Syntho heeft de Philips Innovation Award 2020 gewonnen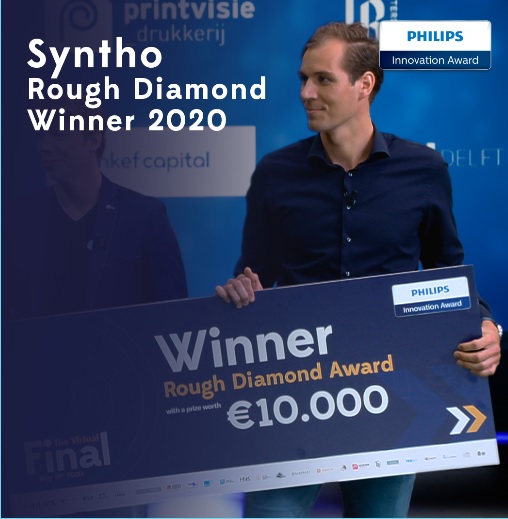 "Syntho's synthetic data paves the way!"
"Syntho's goal is to solve the privacy dilemma"
"Syntho aims to provide trust in the realization of data-driven innovation"
We are experts in synthetic data. 
But, don't worry,

our team is real!
Contact Syntho and one of our experts will get in touch with you at the speed of light to explore the value of synthetic data!