The solution that makes generating synthetic data simple, easy and fast
Explore our synthetic data engine and our value adding synthetic data features.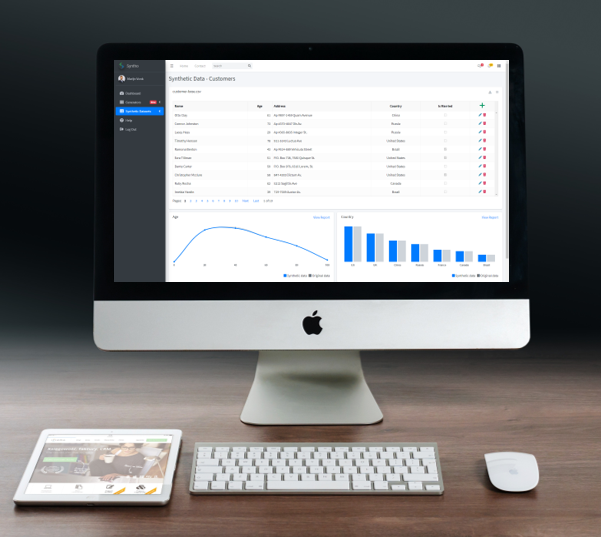 We make synthetic data simple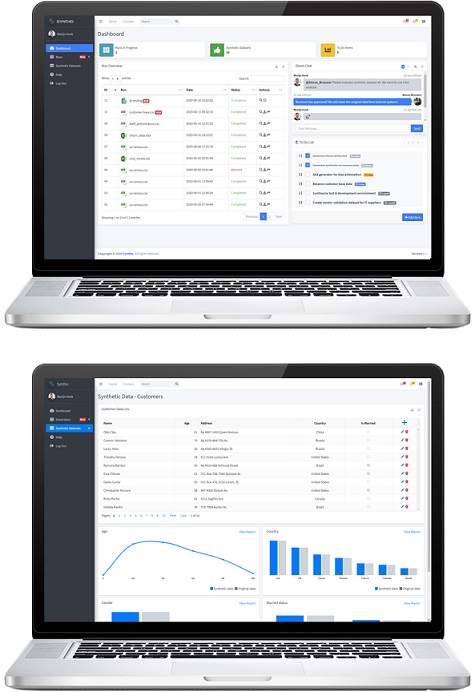 Syntho provides deep learning based software for generating synthetic data. Key features of our solution that our clients emphasize include:
Superior data quality – Syntho preserves statistical properties such that it provides the best possible alternative to using the original (sensitive) data, even for complex analysis such as machine learning.
Complex data support – Syntho also supports more complex data structures like one-to-many relationships, time-series data, sequential data and large data volumes.
Simple, easy & fast – No need for sketchy home built solutions. Our synthetic data engine is ready to rumble and can be deployed immediately.
We work within your safe infrastructure
Our synthetic data engine can easily be deployed on-premise or in your preferred own (private cloud) environment to make sure that the original data does not leave your safe infrastructure. Alternatively, we can host our engine within our safe infrastructure.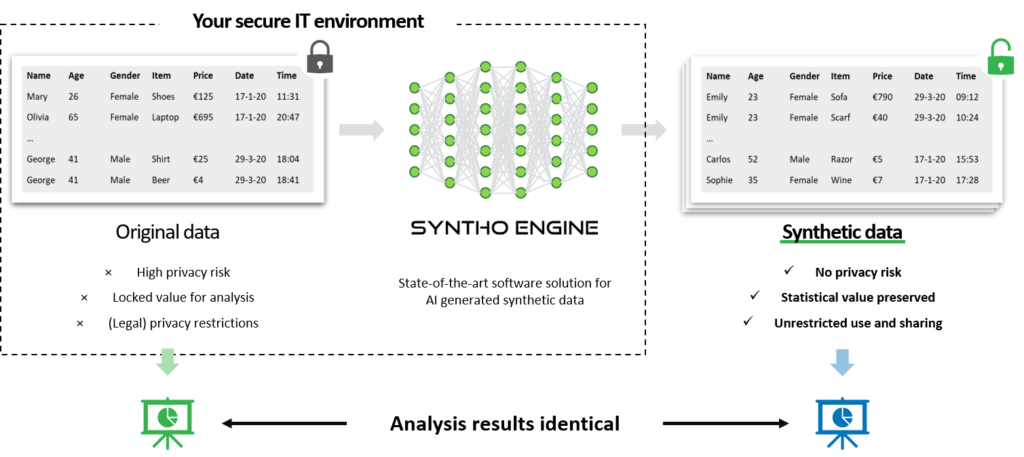 Synthetic data generated by artificial intelligence (AI) opens up opportunities
When generating a Synthetic Data Twin, Syntho mimics the original data as closely as possible while realizing privacy. Syntho generates completely new datapoints and models them in such a way that the properties, relationships and statistical patterns of the original data are preserved. Even complex, hidden patterns, relationships and inefficiencies are captured, so the synthetic data can be used as a direct alternative to the original data.

Data Optimization and Augmentation
The foundation for Synthetic Data Optimization and Augmentation is a Synthetic Data Twin. From this foundation, we can optimize and augment your data using smart generative AI based on the requirements, logic and constraints of your business. We offer various value-adding synthetic data optimization and augmentation features to take your (both 'dirty' or 'clean') data to the next level. 
We are experts in synthetic data. 
But, don't worry,

our team is real!
Contact Syntho and one of our experts will get in touch with you at the speed of light to explore the value of synthetic data!